Are you planning to spend your weekend beside a lake? You can explore the beauty of conical hills that reflect the calm water at Baranti. Additionally, the tribal culture brings another level of happiness.
If your answer is yes, then Baranti (Boronti) is your ideal destination. Being a small tribal village, Baranti is one of the most attractive offbeat tourist destinations today.
Located under the Raghunathpur subdivision, Purulia district, Baranti is a combination of hills, forests, and dams, along with traditional tribal culture. This is an ideal place to spend the weekend.
With a couple of ways, you can reach this place. The most convenient way to reach this hilly area is a train, bus, private car, or shared (rented) car.
The Dum Dum airport is the nearest location if you come via aeroplane. The approximate distance is 240 km. The fastest road to reach this offbeat destination is NH19.
In this article, I will cover all the necessary information regarding the tribal village at the lap of Chota Nagpur Plateau.
Geographical Location of Baranti
Purulia (Puruliya) district is a part of the lower section of the Chota Nagpur Plateau. Therefore in the whole of Purulia, you can find undulating lands scattered with hills. The sorrow of Bengal (old gossip), Damodar, is north of this district.
Surprisingly above 80% of people live in rural areas. Geographically Purulia is famous for coal mining.
The longitude and latitude of Baranti are 23.5811°N and 86.8463°E (according to Wikipedia). The average temperature of this place is 28 degrees. You know, geographically, a plateau experiences a temperature difference day and night.
Which is the Best Way to Reach Baranti
You can reach Baranti in many ways. Both via railway and road are convenient. Generally, you can reach the nearest railway station, Muradi using the Asansol Adra route. However, there are multiple ways to reach your destination.
You can also reach this tribal village from the Asansol railway station via bus or car. Many trains are available from Howrah/Sealdah to reach Asansol.
Bus or car service is available to go to this offbeat tourist destination. The approximate distance is 240 kms from Kolkata.
What are the Attractions of Baranti
Before starting the attractions, let me clear a fact.
Generally, the Purulia tour is circulated through the Gar circuit and Ajodhya circuit. However, both are convenient to reach.
People love to visit the little wonder of nature, Boronti for several reasons. The first one is its natural beauty. Additionally, the tribal culture and sightseeing make this place famous.
Start with Baranti Lake
Baranti lake is a water reservoir used mainly for irrigation. The natural beauty, including hills, jungle and lake, is its prime attraction. The reflection of Muradi hills (probably) on the calm water adds another level of beauty to it.
You can enjoy the spectacular sunset at this calm lake. If the sky is clear, you'll experience an excellent view of the reddish sky reflected in calm water.
You can walk along the dam and experience a calm and picturesque beauty. Spending hours will not bore you.
Even in the morning, the Baranti dam is also spectacular. You can also see local people fishing using a unique tube boat there.
On the opposite side of this dam, you will see a village full of green. In a word, Baranti lake is ideal for a weekend.
Explore Susunia Hill
Newbie trekkers love to visit Susunia hill. Susunia hill is a sightseeing spot from Baranti. Though it is in the Bankura district, you can quickly go there by car.
The road to go Susunia hill is beautiful. The beautiful tribal village, and the canopy over the head, make your journey memorable.
Susunia Hill is just 1470 ft. So anyone can easily reach hilltops. The pebble trek and jungle on both sides of the hill welcome you to reach the top.
You can experience a panoramic view of the area from the top of this hill. In a cloudless sky, the beauty is simply unspeakable.
Visit the Holly Biharinath Temple and Hill
Why am I covering Biharinath hill and the temple (actually located in the Bankura district) as the nearest sightseeing of Baranti?
Per my personal experience, this place is ideal for visiting Baranti. Just by car, it takes approximately 1 hour.
The roadside forests and tribal villages add another level of satisfaction when visiting Biharinath from Baranti.
With the chirping of birds, you can reach the Biharinath Hill area. It is 24 kms (around) away from Raniganj. Biharinath Temple is just at the lap of the same hill.
The combination of forest, lake and hill will attract you. You can also witness the old Jain culture everywhere. Both natural beauty and religious vibe make you affectionate.
Biharinath Temple
The temple of Lord Shiva is in the foothills of the Badrinath hills. According to mythology, the 'Biharinath', the Shivalinga, is much alive. The beautiful scenic beauty around, along with the whole ambience of the temple, will bring another level of happiness.
Many pilgrims visit the Biharinath temple on the auspicious occasion of Shivaratri. Even in monsoon (Shabana according to the Bengali calendar), many pilgrims visit to worship God Shiva.
Biharinath Hill
Biharinath hill is the highest hill in Bankura. It is 1449 ft in height. You can love this place if you want to get a combination of water, jungle and hill together. Monsoon makes this hill green. During this season, you can experience another level of beauty that combines the humid atmosphere with wet leaves,
Spring is another season that attracts tourists. The orange (red in colloquial) blooming Palash (flower) glows in this place. The roadside 'Palash' is always beautiful. If you dream of living under an orange canopy, Biharinath hill might be a good option.
Biharinath hill is a hub of flora and fauna. You can experience various types of butterflies and birds here. Sometimes you may feel your wildlife experience due to its beautiful ambience.
Do you know Biharinath is a mouth-watering place for trekkers? This may be an ideal place if you want to be a rock climber.
*Disclaimer: Rock climbing needs proper training. Get the proper equipment and training before rock climbing at Biharinath hills (or any hills).
Joychandi Hill
Have you ever seen the famous movie "Hirak Rajar Deshe" by the great Satyajit Ray, the Oscar Winner for lifetime achievement (1992)? This famous film was shot in Joychandi Hill.
The most famous Joychandi hill (Pahar in Bengali) is a popular tourist destination. The chirping of birds, the green surroundings, the concrete stairs in the middle of the hill, and the Joy Chandi Mata temple attracts tourists from various corners of the world.
You can easily reach Joychandi hill via Raghunathpur Adra (2kms) road or from Adra railway station (1.5 kms). From Baranti, the distance of Joychandi hill is just 31kms (approx). So reaching this beautiful hill is easy.
With an average elevation of 509 ft, this hill helps to experience a bird's view from the hilltop. Being a part of the Chota Nagpur Plateau, the whole area is wavy, which brings another level of attraction to visit.
Garh Panchakot
If you are a student of history, Garh Panchakot (Garpanchkot) is an ideal destination for you. Garh means fort. Everywhere you can find historical evidence. Located at the lap of Panchet hill, this place is a must-visit travel destination in West Bengal.
On Panchet hill, you can find a ruined fort, Durga temple, Panchakot palace and more undiscovered historical evidence.
The 18th-century Bargi attack ruined this place. According to a belief, King's 17 wives committed suicide in a nearby well during that attack.
The combination of history, nature and forest will attract you. The calm lush green forest, ruined temples, and a little waterfall (a tiny water source) make this place a must-go destination.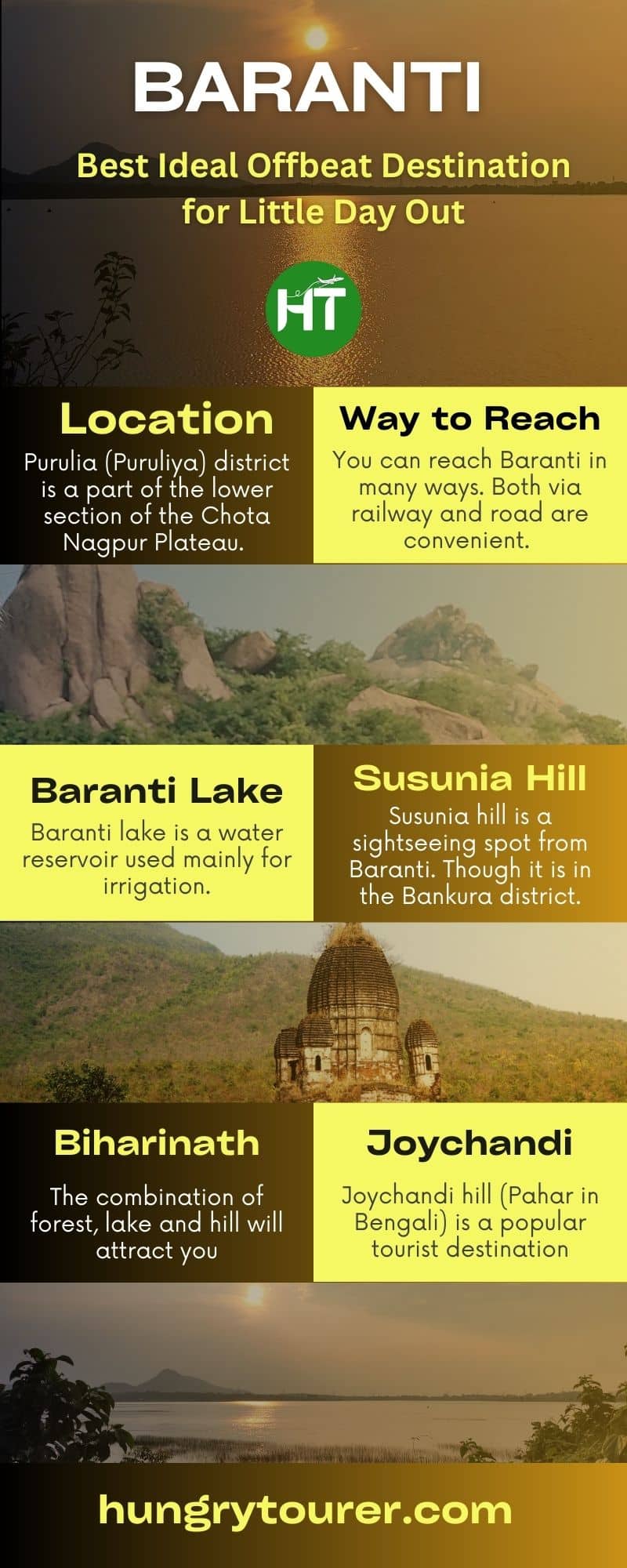 Panchet Dam
The Panchet Dam is an important project of DCC (Damodar Valley Corporation). Located in the Dhanbad district, this place is ideal for spending some time. The vast calm water and Panchet hill at the backdrop make this place popular with picnickers.
With a concrete spillway, this earthen dam is capable of moderating floods. In monsoon, the Panchet dam looks devastating, whereas, at the other time, it is very calm and quiet.
The breeze, chirping sounds of birds, the blue sky and clean road are ideal for driving your car or riding a bike. Anytime you can visit this place.
Once in 1943's catastrophic flood compelled the West Bengal government to take a remedy. As a result, the DVC was developed. The Panshet dam helps both in irrigation and controlling floods.
Now, this is one of the most attractive tourist destinations. People love the whole ambience of this place.
Maithon Dam
Though this dam is located in Jharkhand, you can easily reach it from Purulia, mainly from Baranti. Like Panchet dam, this is a natural reservoir. This is a first-ever multipurpose river valley project as well.
Generally, Maithon is just 48kms away from Dhanbad. The distance from Baranti to Maithon dam is around 49kms. Therefore, you can easily reach this place via car or bike.
The dam is very popular among tourists for many reasons. The natural beauty at dawn and dusk is gorgeous. The reflection of the hills on the vast water adds another level of beauty.
Maithon Dam works with various missions. From controlling floods to generating, transmitting and distributing electricity, this dam brings another level of attraction to tourists. Every year many people visit this place to spend a couple of hours.
The whole ambience, along with the modernization, makes this place equally important to 8 to 80. On the opposite side of this dam will also attract you a lot.
In the monsoon season, this dam looks destructive, which adds another level of beauty to it. Anytime you can visit this place.
Maa Kalyaneswari Temple
If you come to Baranti, don't miss this beautiful and holy temple where Maa Kalyaneswari lives. It is a 500-year-old 'Shakti' worship centre. Though the present temple is not 500 years old, the offering of human sacrifices in the past is still exciting.
Maa Kalyaneswari is very popular with childless women. Every year many childless women come to this place to fulfil their wish to have children. This belief and its ambience make this place popular with the pilgrims.
You can easily reach Kalyaneshwari Temple from Maithon Dam, just around 6 kms away. This temple is located on the bank of the Barakar river. The nearest rail station is Barakar. This place is ideal if you love to spend a couple of hours worshipping.
Conclusion
If you want to spend a couple of days amid a tribal village where the hills and dams welcome you, Baranti is an ideal place for you. Though winter is preferable, you can come to this beautiful place anytime. The local culture, nature, and ambience will amaze you. Now it's your turn!