Have you ever visited any Bird Sanctuary in India? If you love birds, this article is for you. You may know a wide diversity of resident birds live in India's vast geographic area, which also receives migratory birds in the winter.
In India, there are several sanctuaries, national parks, and other locations to observe birds.
Yes, India is among the most magnificent countries, with a unique biodiversity and a wide variety of bird species.
Numerous bird sanctuaries around the nation attract bird species from around the globe at various seasons.
Some of them safeguard these birds by acting as their native habitats.
A list of India's finest bird sanctuaries has been created for avid birdwatchers. The popular bird sanctuary in India is here to amaze you where you may enjoy viewing birds, as you can see.
1. Bharatpur Bird Sanctuary, Rajasthan, a Must Visited Bird Sanctuary in India
The Bharatpur bird sanctuary is the top Bird Sanctuary in India. This is in Rajasthan. It is also in the list of locations that some Indian luxury train routes serve.
It also goes by Keoladeo Ghana National Park and Keoladeo National Park. The 28 sq. km park is home to over 360 different bird species.
Along with various colored birds, this area is home to over 300 flowering plants, 13 snakes, lizards, turtles, amphibians, fish, and other creatures. It is a haven for those who enjoy birds since they may view some of the most unusual species there. One of the top tourist destinations in Rajasthan is the Bharatpur Bird Sanctuary.
Visiting Hours: 08:00 A.M. to 05:00 P.M.
Entry fees: INR 50 to 400 (sometime it varies)
2. Chilka Lake Bird Sanctuary, Orissa, Popular for Migratory Birds
Numerous migratory birds make their home at India's largest brackish water lake, which is well-known for this. More than 260 bird species travel here yearly from the Caspian Sea, Russia, the Aral Sea, Mongolia, Ladakh, and the Himalayas.
One of the state's top tourist destinations. As birds flock here for breeding and spend several months there, you will be charmed by the natural beauty. The lake is famous for fishing, and there are saltpans close to the shoreline. Chilka Lake bird sanctuary is a popular bird sanctuary in India.
While rowing, you may take in the captivating scenery and see crustaceans, crabs, prawns, limbless lizards, and Irrawaddy dolphins.
Visiting Hours: 08:00 A.M. to 05:00 P.M.
Entry fees: Free entry (it may vary)
3. Sultanpur Bird Sanctuary, Haryana, Ideal Wintry Migratory Birds' Land
Sultanpur Bird Sanctuary in Haryana is 1.43 sq. km in area. It is one of the most popular and well-known bird sanctuaries in India. Many migrating birds from Turkey, Siberia, Eastern Europe, and Russia travel here throughout the winter.
This region is home to about 250 native bird species, of which over 100 migrate at different times of the year. It is advised to go during the winter.
Visiting Hours: 06:00 A.M. to 04:30 P.M.
Entry fees: INR 5 to 40 (it may vary)
4. Nal Sarovar Bird Sanctuary, Gujarat, Variety of Seasonal Birds
Gujarat is home to the most significant water bird sanctuary in India. Its wetland vegetation and 120 sq. km. of avifauna are well known. The area is home to a variety of year-round and seasonal birds.
The spring and winter seasons are home to more than 250 different species of wetland birds in this bird sanctuary in India. Additionally, between November and February, several migratory birds can be seen here.
There is also boating available here, along with other enjoyable activities.
Visiting Hours: 06:00 A.M. to 06:00 P.M.
Boating fees: INR 150 per hour per person (it may vary)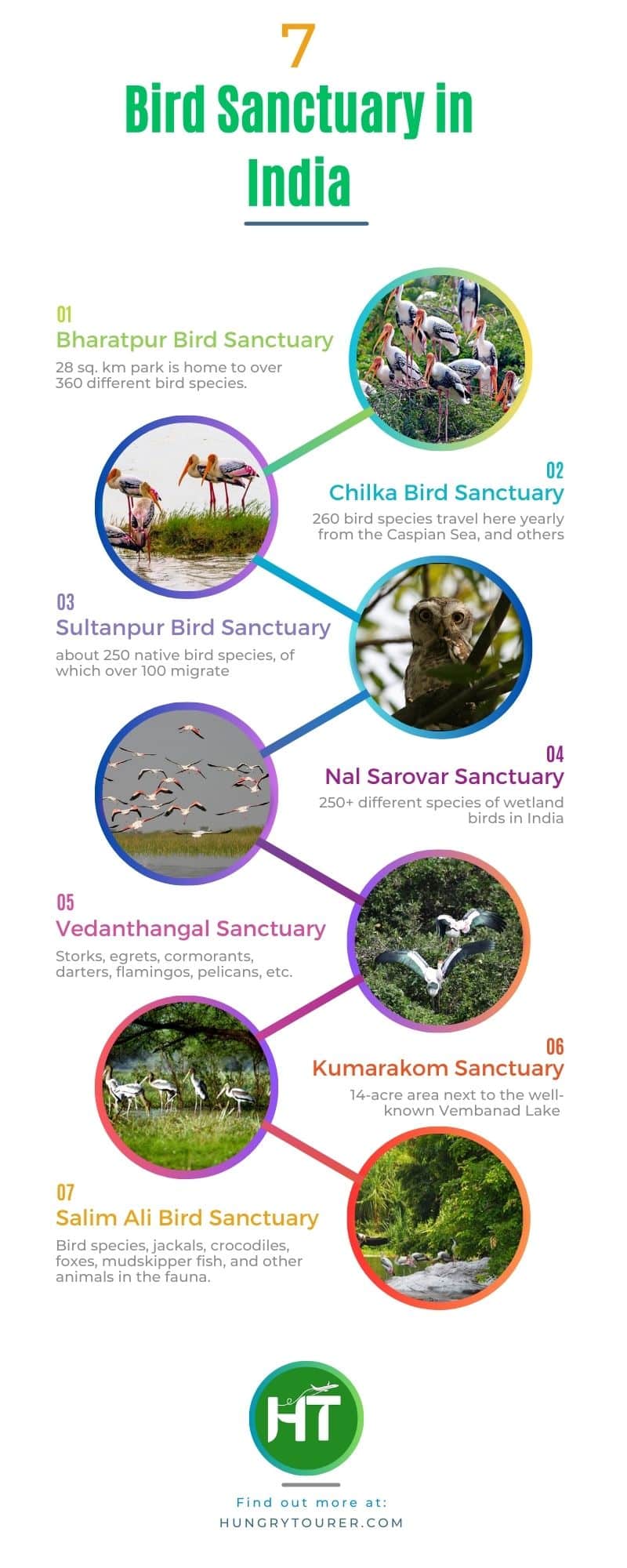 5. Vedanthangal Bird Sanctuary, Tamil Nadu, Popular Water Bird Sanctuary
It is one of India's most important water bird sanctuaries, located 25 kilometers from Chengalpattu. On the limbs of submerged trees, birds build their nests.
Some species that come here during the season include storks, egrets, cormorants, darters, flamingos, pelicans, moorhens, herons, kingfishers, sandpipers, white ibis, spoonbills, swans, and grey wagtails. This is one of the most popular bird sanctuary in India
October and March is the best time of year. From the watchtower or the bank, you can see the birds.
Visiting Hours: 06:00 A.M. to 06:00 P.M.
Entry price: INR 5 per to 25 (sometime it varies)
6. Kumarakom Bird Sanctuary, Kerala, a Combo of Bird-watching and Tour
Given that it includes Kerala's backwater region and is home to numerous bird species, this is the best location for both birdwatchers and tourists. It occupies a vast 14-acre area next to the well-known Vembanad Lake and offers lush green surroundings and abundant natural resources.
Visiting Hours: 06:00 A.M. to 06:00 P.M.
Entry price: INR 50 per to 100 (it varies depending on several things)
7. Salim Ali Bird Sanctuary, Goa, A hub of Local and Migratory birds
Local and migratory birds of all kinds may be seen at Salim Ali Bird Sanctuary. Salim Moizuddin Abdul Ali is honored to have this refuge bear his name.
Goa's Chorao Island's western point, a thin section of mangrove forest, the Mandovi River, and this bird sanctuary are all located there. There are many different bird species, jackals, crocodiles, foxes, mudskipper fish, and other animals in the fauna.
Visiting Hours: 06:00 A.M. to 06:00 P.M.
Entry price: INR 10 per to 100 (price may vary)
My Final Thought
This list of popular Bird Sanctuary in India may help you to make a plan to visit. Among popular bird sanctuaries in India, these are some of the best and busiest, which will appeal to any birdwatcher. Even you can explore a little excitement amid nature. Plan your trip and make reservations in advance to visit some of India's rare bird sanctuaries.