North Bengal tourism is highly intriguing because there are many wonderful places to visit. People are crazy to visit various offbeat places now. Dooars offbeat places are one of them.
We've included a few stunning and unusual locations in Dooars offbeat in this article. You can easily plan a trip once.
Let's come to the locations. These locations are ideal if you want to spend a weekend away from your regular life.
Unquestionably one of our favorite places to visit in North Bengal because of natural beauty and atmosphere. Mountains, tea plantations, woods, and rivers may all be found in North Bengal.
What can I say about travel in North Bengal?
Additionally, you would like to explore this region of Bengal. There are many Dooars Offbeat Places that you can explore if you love nature.
The Dooars area and the hills of Darjeeling and Kalimpong represent two distinctly different aspects of North Bengal tourism.
The gorgeous hamlets, mountain rivers, tea gardens, and woods in Dooars, which lie in the foothills of the Himalayas, will charm you. Both the Kalimpong and Darjeeling mountains are stunning in their own right.
Several little settlements in North Bengal draw numerous tourists all year round.
We've compiled a few unique locations in North Bengal for you to visit for a quiet weekend in this blog. These locations in the Kalimpong, Darjeeling, and Dooars regions will undoubtedly provide you with more suggestions for how to spend your weekend in the tranquility and calm of nature.
Typically, you must first go to Siliguri to access these locations. To get to New Jalpaiguri, you may take the rail or fly into Bagdogra Airport.
You may hire a whole automobile from NJP or Bagdogra to travel to these unusual locations. It is why I explained how to go by shared car to the closest large town when writing about these locations.
Several trains depart from Sealdah and Howrah Station that may take you to NJP. Due to their timeliness, Darjeeling Mail and Padatik Express are two of our favorites. We may complete our work on Friday night and catch the train for NJP.
Attractive Dooars Offbeat Places
Offbeat tourism is becoming popular day by day. Every year many people from all over the world explore many offbeat places. North Bengal is a hub of offbeat places.
Apart from offbeat destinations near Darjeeling, today I am going to share some popular Dooars offbeat places. Offbeat lovers will enjoy those places. These amazing Dooars offbeat places welcome you with beauty and pleasure.
Rongo
Rongo, a charming village next to some hills in Bhutan, will astound you. The location, 33 miles from New Mal Junction, is recommended for its serenity and tranquility. You'll like meeting the locals and going for walks in the village.
Distance: 96 kilometers from Siliguri.
How can I go to Rongo?
New Jalpaiguri is 96 kilometers away from Rongo, while New Mal Junction is 33 km away. Rent a vehicle from NJP or New Mal Junction and go to Rongo.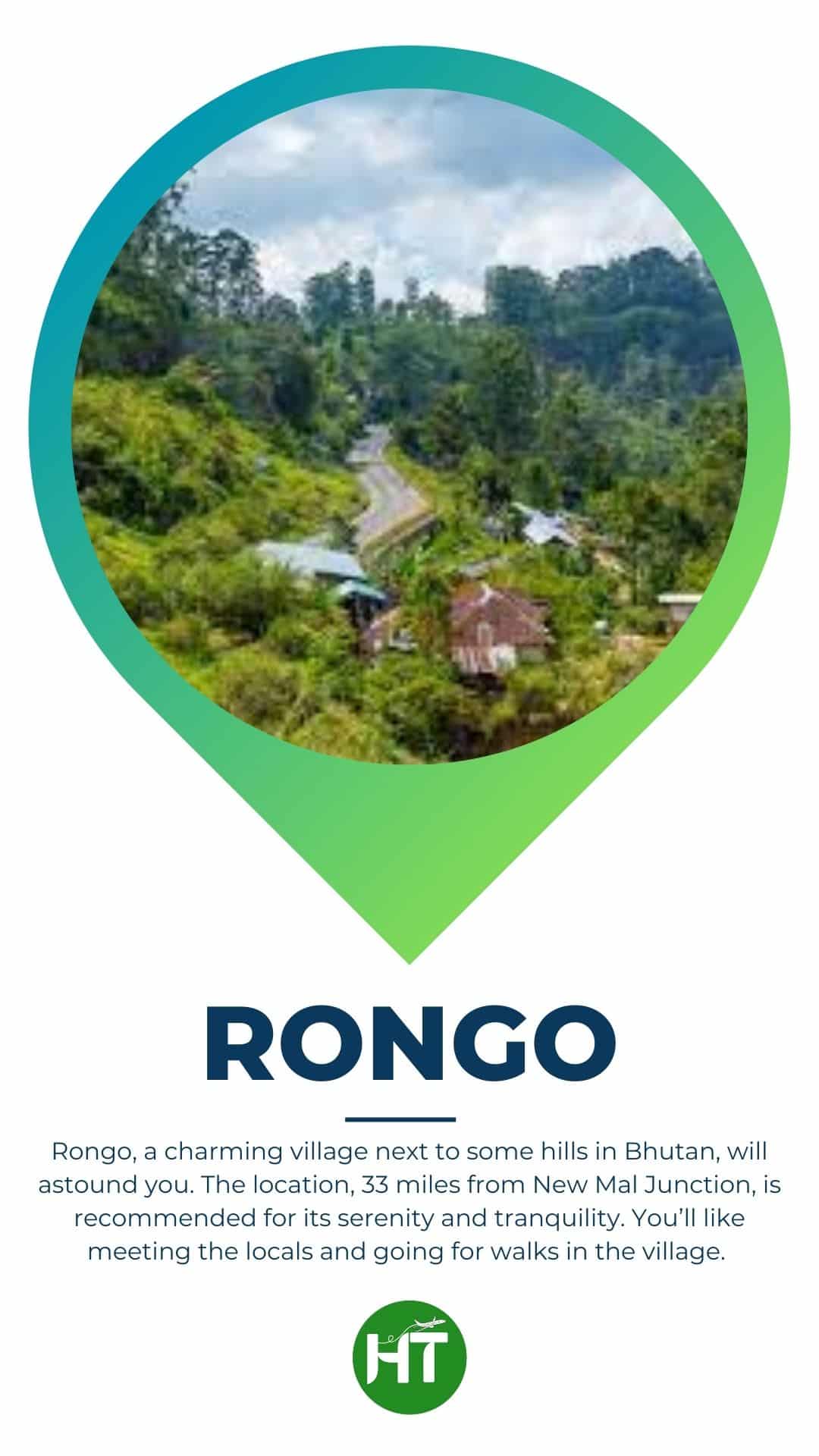 What is enjoyable?
Visit the waterfall and monastery, then stroll through the hamlet.
Lepchajagat – an Offbeat Darjeeling Destination
Do you know, people recently want to explore offbeat places to explore the real flavour of nature?
Many offbeat destinations are getting popular.
Lepchajagat is one of them.
If you are planning to explore the beautiful hill top 180 degree view point, you must plan Lepchajagat.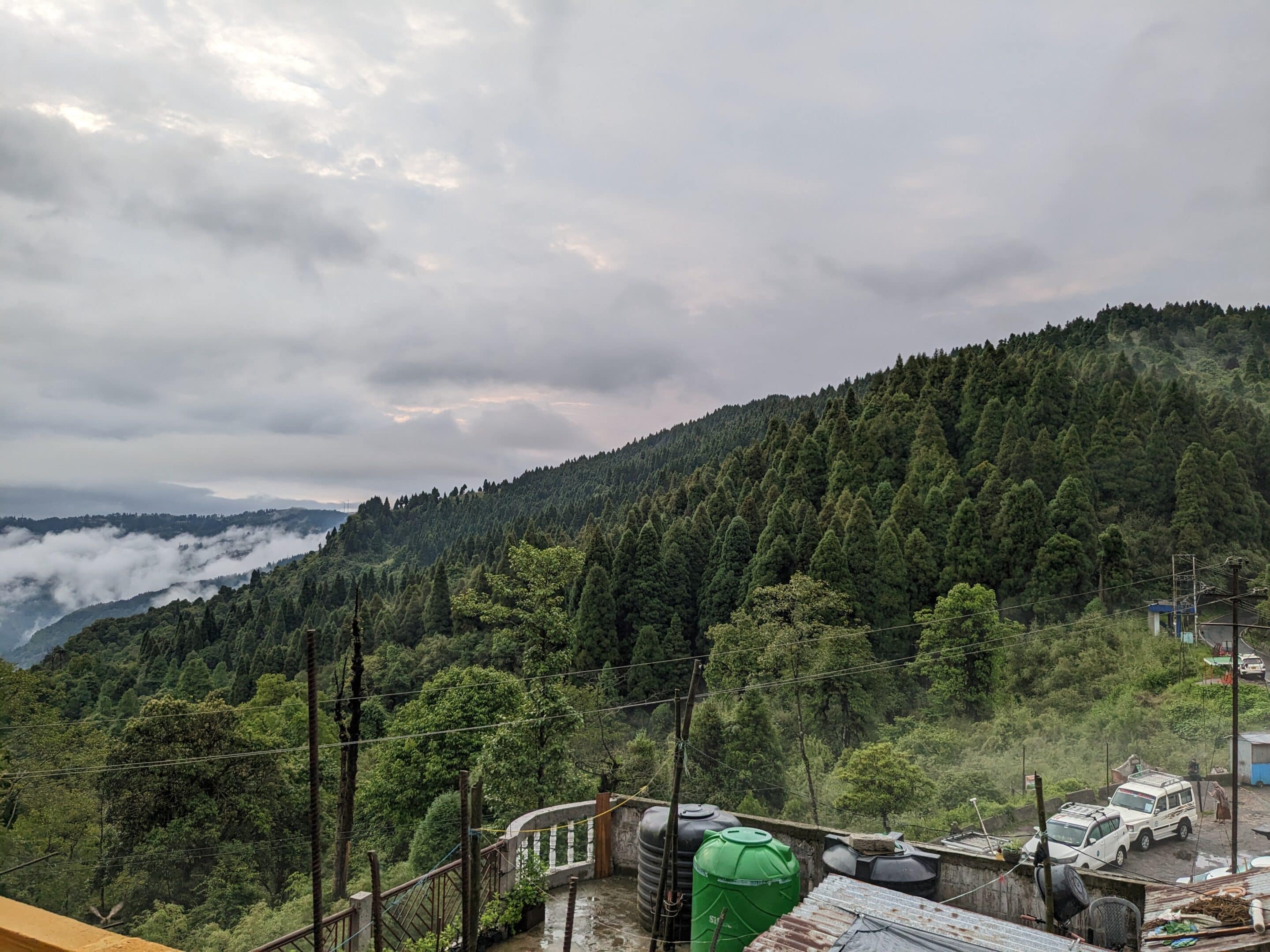 Undoubtedly, Lepchajagat is an ideal offbeat places near Darjeeling. You can add it in your Dooars offbeat tour as well.
While people used to travel offbeat Darjeeling, Lapchajagat must be in their bucket list.
The table-top location atop the hill is Lepchajagat's primary draw.
From the top, you will have a panoramic view from the Lepchajagat view point. If the weather is clear, spending time at view point must be an excellent experience.

Do you know how to reach there?
You can reach Lepchajagat from New Jalpaiguri station, Bagdogra airport or from Darjeeling and from Alipurduar as well.
However, I have a suggesting.

Make your tour plan strategically.

Keep Lepchajagat in your bucket list if you want explore offbeat Darjeeling tour.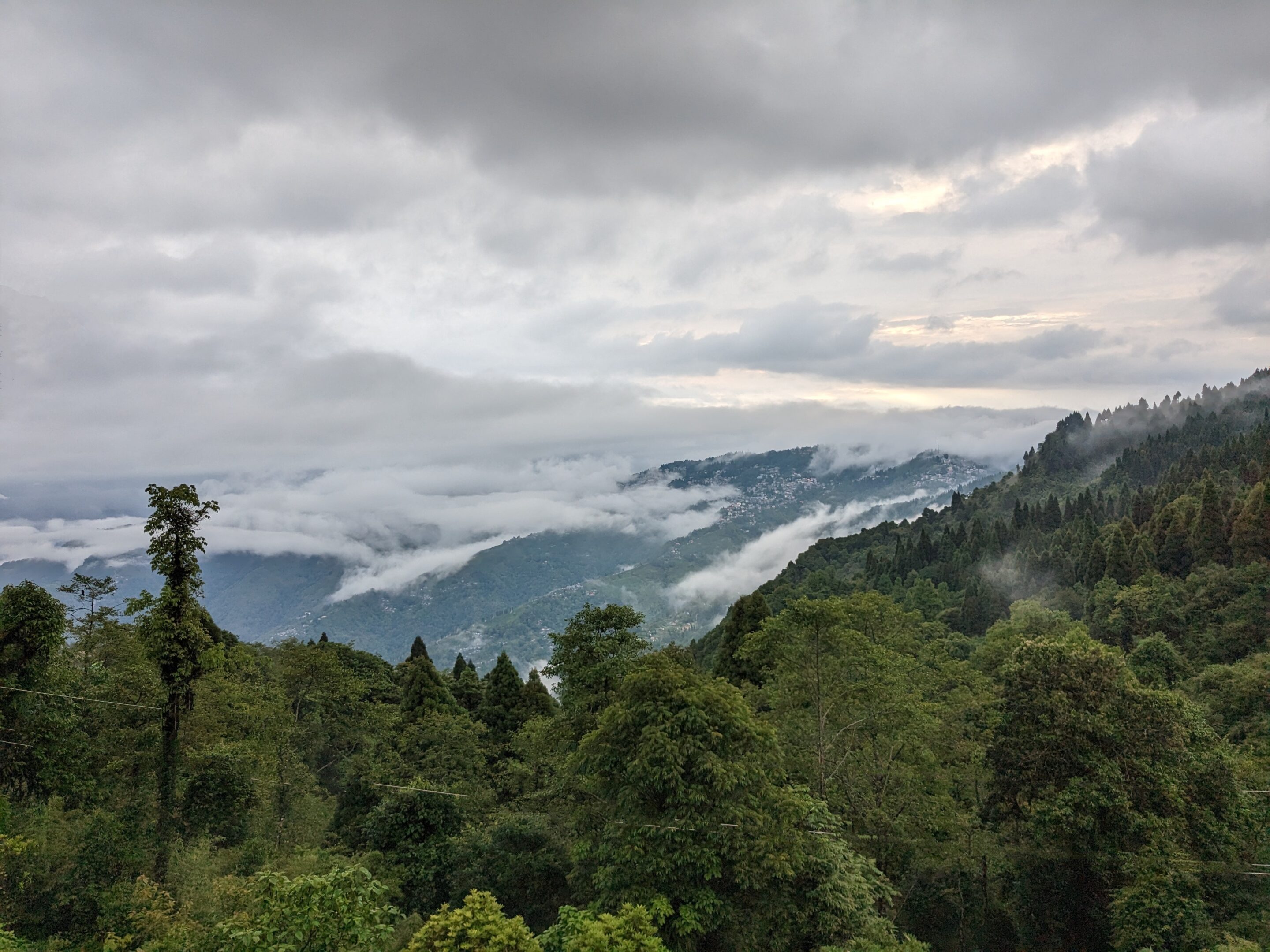 You can visit Lepchajagat from Dooars tour as well.
What to enjoy?
As Lepchajagat is an ideal offbeat destination, you can enjoy hilltop view and dense pine forest, If you love exploring nature, you can spend your whole day sitting at view point.
Along with the above, you can find orchids, various types of birds as well.
According to local people, sometime, leopard comes out at night. Hope you can experience thrilling!
Chilapata
Between the Jaldapara Wildlife Sanctuary and the Buxa Tiger Reserve, Chilapata is tucked away in the beautiful Eastern Dooars region.
Chilapata is the most important migration route for large herbivores like the one-horned rhinoceros and Asiatic elephants, even though it is neither a wildlife sanctuary nor a national park.
The location, next to the stunning Torsha and Bania rivers, is ideal for anyone looking for peace amid nature.
Here, you can take in and experience the wildness of the forests and the excitement of the wild and wildlife.
Distance: 145 kilometers from Siliguri.
Where is Chilapata located?
Hasimara Junction and New Alipurduar Junction are the two closest railroad stations. You can travel there by train from Howrah or Sealdah. You must rent a car to get to the forest from the station. Chilapata is one of the popular Dooars offbeat places of hamlet lovers.
What to enjoy?
Visit the nearby tea estates, the Nalraja Garh, close to the Bania River, the forest villages, and the Chilapata Jungle Safari.
From here, you can travel to nearby locations like Chapramari, Jaldapara, and Neora Valley National Park.
Dalgaon
Dalgaon is a tiny, quaint village surrounded by Ipecac plantations and Dooars tea gardens, and it has all the charm to win your heart.
The mountains and clouds that play off one another in the Dooars region add to its allure. From the nearby viewpoint, you can see Jaldhaka and the mountains of Bhutan. Additionally lovely is the homestay.
Distance: 125 kilometers from Siliguri.
How can one get to Dalgaon?
A shared jeep will provide Siliguri to Dalgaon transportation. A car rental is another option for getting here.
What to enjoy?
To explore the ideal culture of Dooars offbeat places, you can experience village stroll, stop by the lookout point and take in the scenery.
The nearby tourist destinations of Bindu, Jhalong, Samsing, Suntelikhola, Gorumara, and Chapramari are those where you can go sightseeing.
Raimatang
One of the most stunning places to visit in the Dooars area is Raimatang. This unusual locale in North Bengal is tucked away in the Buxa Tiger Reserve and is a charming woodland settlement ideal for a weekend getaway.
North Bengal's luxuriant tea plantations and powerful hills surround Raimatang.
You may find rich flora, wildlife, and beautiful scenery at Raimatang.
There are a couple of trekking paths nearby that would appeal to thrill seekers.
Raimatang is one of the famous Dooars offbeat places and close to the Buxa Tiger Reserve and the Buxa Forest, where you can also go on a jungle safari, and because it is home to several bird species, you may engage in bird watching there.
Distance: 74 kilometers from Siliguri
How to get there?
Travel to New Alipurduar by train from Kolkata. Then, rent a car and drive to Raimatang.
What to enjoy?
Enjoy the scenery, ambiance, atmosphere while taking a jungle safari in the Buxa Forest, observe birds, and relax by the river. Lepchakha is accessible by hiking as well.
Paren
Near the Indo-Bhutan border, in the western Dooars, is a place called Paren is one of the most discussed Dooars offbeat places with breathtakingly lovely.
Paren provides breathtaking views of the surroundings since it is blessed with hilly regions with luxuriant green woods, meandering rivers, and stretches of agricultural fields.
Paren is one of the most sought-after and unusual locations in North Bengal because of its beautiful green forests, rocky terrain, and mountain rivers.
The Rachella Pass is the most well-known of the various trekking routes in Paren. Just 10 km separates us from Jaldhaka.
Distance: 112 km from Siliguri
How to get there?
Malbazar is the closest Railhead. Travel to Chalsa from there, and then take a vehicle to Paren.
What to enjoy?
Village strolls and time spent on nature trips to the neighboring towns of Todey and Tangta provide breathtaking views of the mountains and valleys. Additionally, you may go to adjacent sites like Bindu and Jaldhaka.
Singtom Tea Estate
Taste the beauty of Dooars offbeat places at Singtom Tea Estate. There is a view of the mountains outside the Singtom Suite's private entrance.
The Singtom Tea Estate and Resort offers one of the top tea tourist experiences close to Darjeeling. Singtom tea plantation, one of the oldest in the Darjeeling region, is approximately 6 kilometers from Darjeeling town.
The location saw the beginning of a tea plantation in 1852, and the bungalow was built there around 1862.
A weekend of relaxation in the middle of mountains and tea plantations is perfect here.
The bungalow at the tea resort has one of the greatest views of Kanchenjunga, one of its primary attractions.
You may thus tour the many acres of tea gardens and enjoy some of the nicest vistas of the snow-capped Kanchenjunga peaks.
Of course, fresh Darjeeling Tea is available in infinite quantities.
You may take a tour of the tea estate's tea factory, go tea picking, sample tea, and have a picnic at the 360-degree point.
Distance: 74 km from Siliguri.
Ways to get there?
The shared sumos to Darjeeling depart from NJP or Siliguri. To get to SIngtom Tea Estate, located about 6 km from Darjeeling, you must rent a car.
What should I do after getting there?
Enjoy your stay in a tea bungalow, a trek through the countryside, a picnic at the 360-degree point, a factory tour, a tasting tour, and a tour of the tea pickings.
Bunkulung
Bunkulung is one of the high demand Dooars offbeat places and known for its tea plants, waterways, and charming town. There are also vast fields of cardamom and paddy. Bunkulung, roughly 15 miles from Mirik, is a haven for those who enjoy the outdoors.
You may climb to the riverside, stroll around the hamlet, and visit the tea gardens. Accommodations at Bunkulung Eco Huts are the best.
Distance: 40 km from Siliguri
How to go to Bunkulung?
Take shared sumo to Mirik from Siliguri. Hire a vehicle at Mirik and drive to Bunkulung.
A direct route through Dudhia runs from Siliguri to Bunkulung as well. Although it is a quicker trip, you must rent a complete automobile for it.
What should I do after getting there?
Walk around the village, look around the tea gardens, then stop on the Balasun Riverside.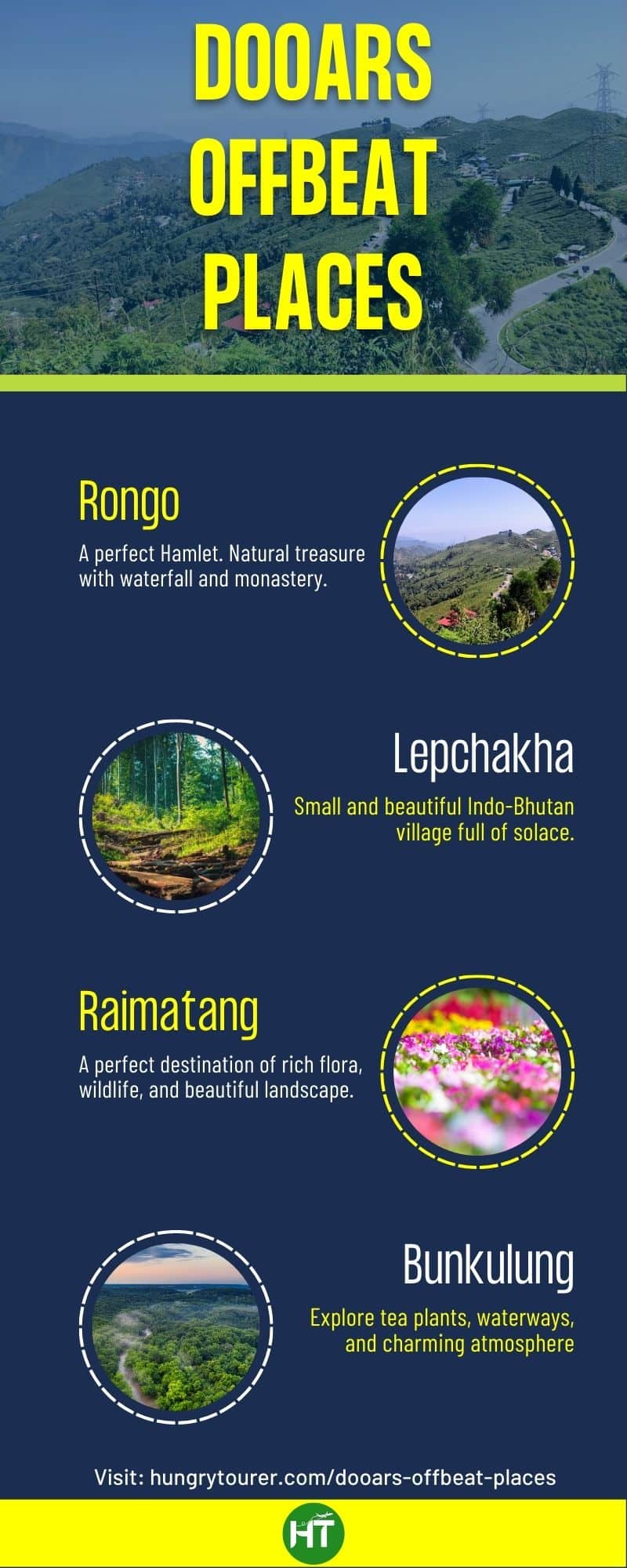 Tabakoshi
Tabakoshi is the perfect location if you want to spend some time in the tea gardens and enjoy first-rate service.
The Gopaldhara Tea estate is only 8 km downhill from Tabakoshi. Verdant hills and lush tea gardens surround the area.
Visit Sunakhari Homestay and take advantage of their hospitality. You can set up camp next to the river as well. It's the ideal location for a weekend of relaxation.
Distance: 625 km from Kolkata.
How to get there?
From Siliguri, ride a shared Sumo to Mirik. To go to Tabakoshi from Mirik, you must use a private vehicle.
What should I do after getting there?
Visit tea estates like Gopaldhara, Thurbo, and Sangma, stroll through the tea gardens, and camp alongside the Rangbhang River.
Singell
The majority of us had stopped at Kurseong en route to Darjeeling. Singell is one of the special Dooars offbeat places and a little village surrounded by farms and tea plantations about 2 kilometers from Kurseong town.
A comfortable spot to stay is Singell Homestay, positioned right at the edge of the cliff.
From Hill Cart Road, a short detour will take you to the guest house.
The nicest feature of staying at Singell is watching the toy train chug directly from the homestay's balcony.
We would practically wait for the Darjeeling toy train's departure time to see the chugging trains. The Darjeeling toy train is a timeless sight to behold!
Tea gardens line the village's perimeter. You can hike down to Singell Tea Estate to learn everything there is to know about making tea.
Distance: 40 km from Siliguri
How do you get to Singell?
You can take the shared sumo to Kurseong from Siliguri. It's only 3 km from Singell. Both hire a car, and walking can get you to the homestay.
What should I do after getting there?
Visit the Singell tea factory to view the tea picking and processing process, stroll through the tea gardens, and take village walks.
Additionally, you can go to the close-by tea estates of Castleton, Makaibari, Goomtee, and Ambootia.
Additionally, go to the 14 km away Bhangzang Salamander Lake.
Rangaroon
Among Dooars offbeat places, Rangaroon is famous for its mysterious beauty. A sleepy town called Rangaroon is perched among hills and clouds.
Only 16 km separate the location from Darjeeling.
Rangaroon, surrounded by tea estates and forests, is the ideal vacation spot for those seeking adventure, seeing wildlife, and getting away from the hustle and bustle of the city for a few days.
The homestay has a charming, lovely appearance, and the hosts offer unrivaled hospitality.
The best part for us was the view of Darjeeling town, and the Kanchenjunga ranges from the homestay. What more could we ask for?
Distance: 67 km from Siliguri.
How do you get to Rangaroon?
Take shared sumo to Darjeeling from Siliguri and get off at Jorebunglow. Hire a car to get to Rangaroon from there. About 8 km separate Rangaroon and Jorebunglow.
What should I do after getting there?
Visit the Mata Singha Temple, the abandoned tea mill, the town, and the tea gardens. For a half-day picnic, hike to the bank of the Rundung River.
Bagora
The main features of Bagora include mountains, mist, and unspoiled nature.
Bagora, a charming village hidden at 7150 feet above sea level, is a location where you may unwind and re-energize.
At Bagora, things moved slowly, and we appreciated the town's charming old-world atmosphere.
The only thing to do in Bagora is walking around the village.
The blanket of green grass is there to calm your soul, while the mountains are simply there for your eyes to see.
A few hiking paths lead from Bagora to Chimeni, Chatakpur, and Latpanchar for individuals who enjoy hiking.
Distance: 58 km from Siliguri.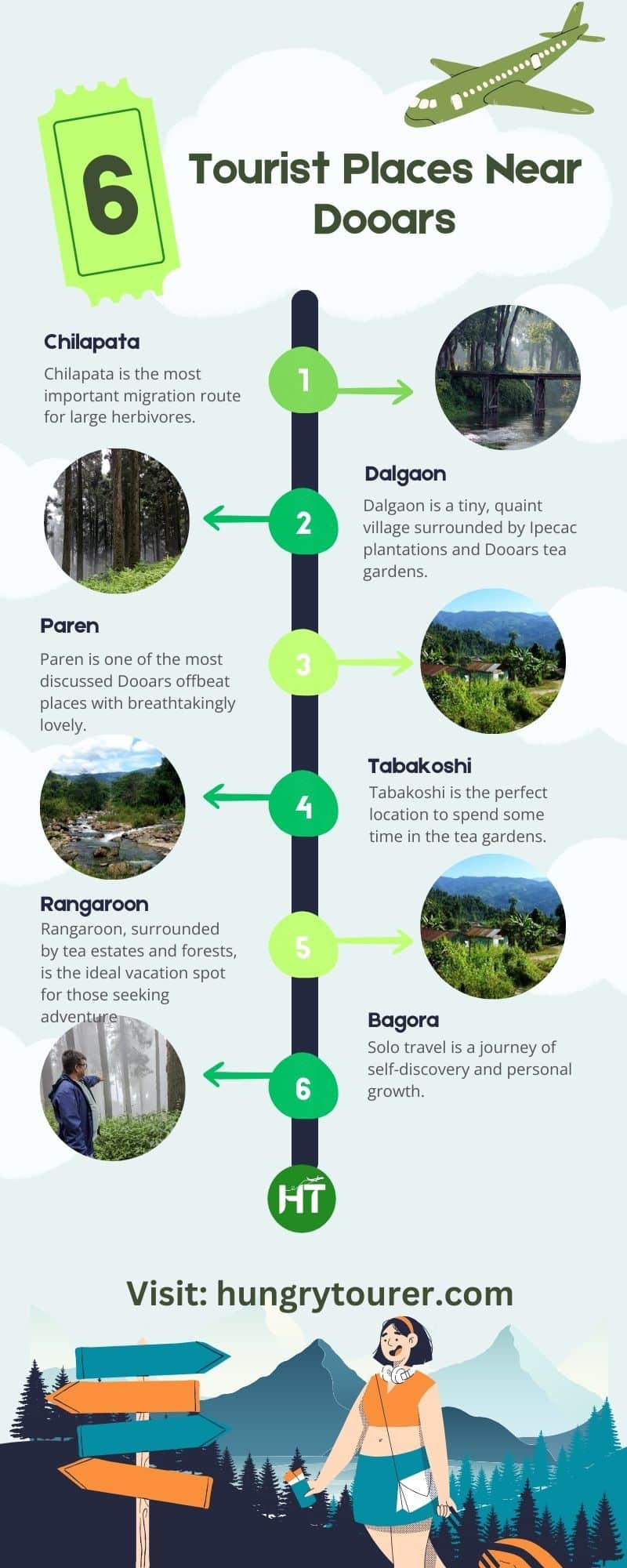 How can I go to Bagora? 
Take a shared bus heading to Darjeeling from Siliguri or NJP. Depart from Dilaram. It would help if you then drove to Bagora from there.
What should I do after getting there?
Visit Zero Point, stroll through the community, and see birds. You may hike at Chatakpur, Latpanchar, or Chimeni.
Tumsong Tea Retreat
Tumsong Tea Retreat will offer luxurious accommodations amidst tea plants.
The Chamong group owns the Tumsong Tea Estate, 298 kilometers from Darjeeling and situated close to Ghoom.
A total of 186 hectares of the estate are spread over 114 hectares of tea gardens.
You may enjoy a stunning view of Kanchenjunga from the tea plantation, surrounded by majestic mountain ranges.
Around this area, there are a lot of different tea gardens.
The colonial Managers' Bungalow serves as the place of lodging.
You may enjoy the outstanding hospitality of the tea farms at Tumsong Tea Retreat, a high-end tea resort.
All of these locations—Ghoom, Tiger Hill, and Batasia Loop—are nearby.
65 kilometers from Siliguri.
How to get there?
To go to Tumsong Tea Retreat, take a vehicle from NJP or Siliguri. It is situated not far from Ghoom.
What should I do after getting there?
Have fun while you're there. Explore the tea gardens, visit the tea factory, and partake in a tea tasting.
Conclusion
While you are planning to visit Dooars Offbeat Places to explore an unseen and undiscovered beauty, this article may help you a lot. So, here is a detailed list of offbeat locations in North Bengal. How helpful did you find this post? Please share your thoughts in the comments section. Please share this article with your loved ones, friends, and neighbors if you liked it or found it beneficial.