Nature is the best artist. It has created hills, mountain peaks, the sun, moon, earth, streams, and oceans.
We dream of visiting a place gathering with all the creations. Darjeeling is ideal for viewing all of these altogether.
But how do you have a Darjeeling budget travel guide? Then completing this post is mandatory.
We know Darjeeling is one of the best hill stations. The place is renowned for its scenic views and mountain views.
Tourists visit the place to get amused by nature's beautiful creations. You can also visit the place on a cheap budget. We will guide you.
We can be a good Darjeeling budget travel guide.
You need to keep some facts in mind and travel to that.
It's the only way to have unlimited fun with little money.
This post is all about the Darjeeling budget travel guide.
So in this article, we will guide you to the best time to visit Darjeeling.
The Off-season tour is budget-friendly. So you have to visit the Darjeeling off-season.
Effective Darjeeling Budget Travel Guide
Do you know the exact time of the off-season Darjeeling tour?
We can help you even if it is unknown to you.
Just be with us to get the best Darjeeling budget travel guide with fabulous Darjeeling visiting spots.
It's impossible to discuss the Darjeeling budget travel guide without mentioning the perfect time to visit the place because visiting Darjeeling off-season is the key to saving money.
So here is the best time to visit the place.
It will teach you how to save money and enjoy an amazing tour experience.
What will be the Best time to visit Darjeeling?
Are you planning a Darjeeling trip but need to know the best timing? We'll help you out.
Darjeeling certainly shows unforgettable views.
Is this a reason why you are planning for a Darjeeling tour?
Only the Darjeeling budget travel guide can lead you to a successful journey without compromising money.
We mention the time and their advantages.
Check all of them and decide the perfect time.
Visit Darjeeling in Spring and Summer (March to May)
Visiting the place in Summer is one of the best times to feel pleasant.
The atmosphere remains cosy. People travel now as it reveals a clear sky with a Kanchenjunga view.
This time is the utmost visiting time. The local people visit the destination at this time.
You will see wonderful things if you take a trip to the place in Spring in March and April.
It is because Rhododendrons bloom at this time. It's a shrub-like tree.
The shrub conveys large shaped flowers with large leaves. It looks amazing. You must see it.
Trip in Monsoon season (July-September)
Being a Darjeeling budget travel guide, we request you visit Darjeeling in Monsoon.
Most visitors need to pay attention to this time for a trip. It's the off-season to tour in Darjeeling.
The Monsoon starts in Mid june. The season terminates at the end of September.
It's the best time to visit Darjeeling for nature lovers.
We admit it sometimes causes landfalls, and even some roads get closed.
But the romantic weather, hills, and cloudy sky feel like a tourist's soul.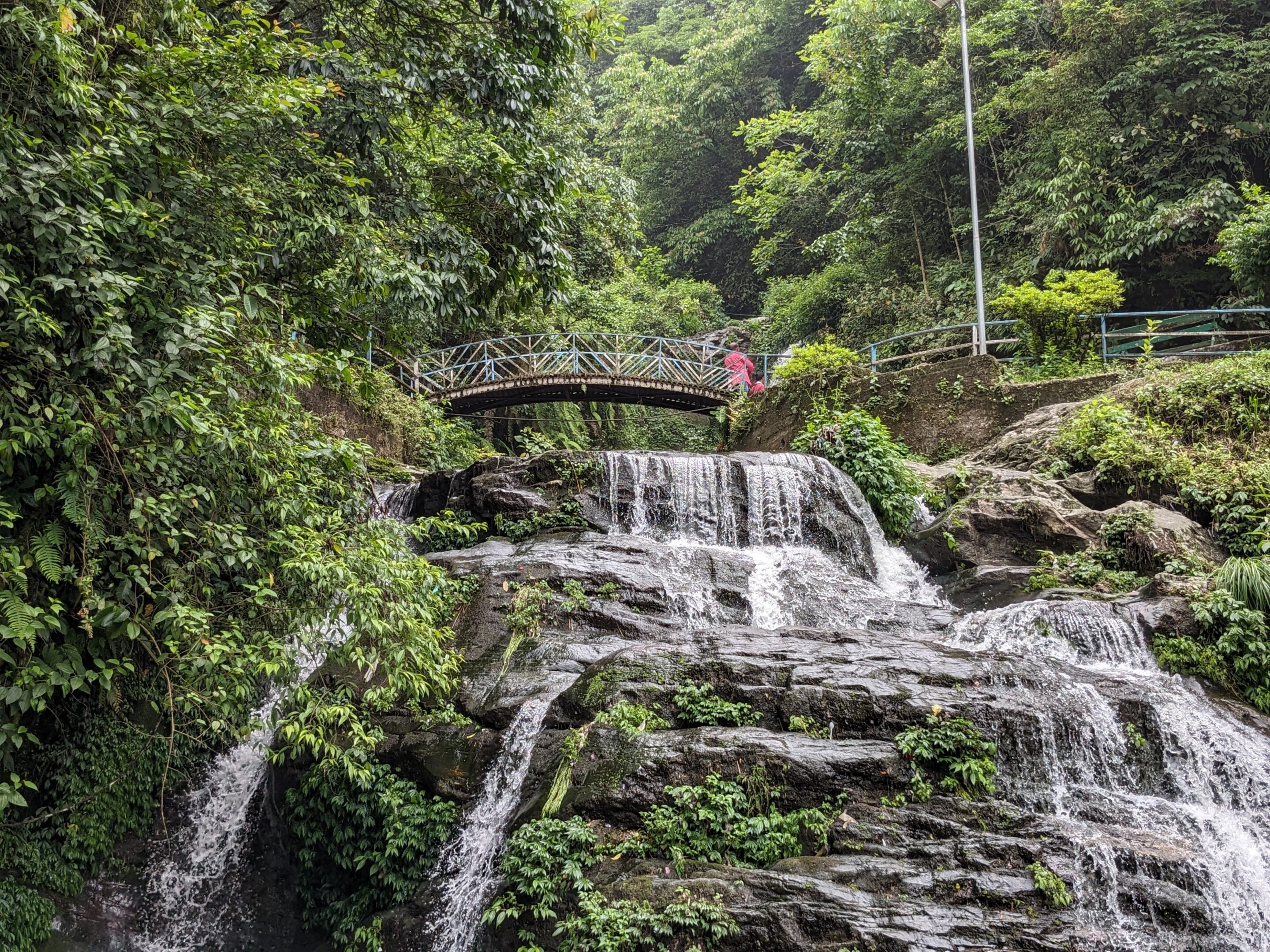 You might not be able to see the mountain views at the time.
We consider this as a reason why people visit Darjeeling rarely at the time.
It's the off-season. So it can provide you with an under-budget or low-budget Darjeeling tour.
Plan Darjeeling Tour in Autumn (October-November)
Do you want a clear Kanchenjunga view? Then Autumn will be the perfect time for you.
In October and November, the sky remains crystal clear. The temperature becomes comfortable.
It will showcase snow-snugged mountain peaks. Most tourists prefer this time to visit Darjeeling.
But it won't be able to give you a budget-friendly tour. It's the utmost season. So the place remains crowded with tourists.
As a Darjeeling budget travel guide, you should know there are better times to save your budget.
Tour in Winter (December-February)
Snowfall in the mountains is a mesmerizing thing that your eyes can never observe.
Do you want to experience a Darjeeling trip during the snowfall?
Then visiting the place from December to February will be ideal.
The famous Tiger Hill of Darjeeling gets snowfall during Winter.
The spot receives lower tourists this season.
So the hotel rooms and other costs will be cheaper than in different seasons.
Are you getting the Darjeeling budget travel guide properly? We are getting so.
Now, as a Darjeeling budget travel guide, we recommend you visit either in the Monsoon or Winter.
Only these two seasons give you under-budget travel.
What could be the best things to do in Darjeeling?
Visitors often need clarification about what to do or what not to do.
It's because they can be very costly. Are you among them? We will make it easier for you. See how we do it.
Keeping the middle-class people utmost, we have enlisted some things.
You can experience the mentioned things within a meagre budget. So would you take a try?
River rafting in Teesta
Darjeeling budget travel guide can't be completed without river rafting.
It is a dream for so many people. It will remain an amazing experience for the group of friends.
While tripping with friends, we want something adventurous more than visiting beautiful places.
Imagine you and your friends are having a tour after a long time.
The boats will be loaded by you all. You will wear a safety jacket. Flow with the water of Teesta.
It feels like you all are flowing with the river water.
Is it less than a big dream?
Make the dream come true. Plan the trip in Winter. It will cost you lower than other times.
Trekking at Sandakphu Top
Trekking is undoubtedly one of the best adventurous activities.
The utmost peak of Sandakphu makes it more unique.
70% of youths visit Darjeeling for snow trekking. You are among them.
You must recognize the place for its beauty.
Visit the top of the mountain and see how wonderful it is.
Take a trek in it, besides visiting the place. It will leave an unforgettable memory in your life.
So try it now. Don't worry, it is under the Darjeeling budget travel guide.
So you need not worry about the budget; plan for a day.
Take a pleasant ride on the Famous Darjeeling Toy Train.
No one should miss exploring the toy train, riding on it, and its mesmerizing whistling.
It's an absolute must-explore thing in Darjeeling.
Start the journey from Ghoom. Then enjoy the serene greenery while sitting on the toy train.
You will get lost in nature for a few minutes, and it's obvious.
Get down at Kurseoung. It can be a romantic journey for lovers, families or friends. It vanishes half of your stress.
7+ Best visiting places in Darjeeling known as Darjeeling 7 points
We promise you to provide the best Darjeeling budget travel guide.
We can't skip Darjeeling seven points. What comes under it? The seven spots will be included below.
We kept the Darjeeling budget travel guide in our mind. Keeping it in mind, we have listed the places given below.
We will discuss the places one by one. Let's take a glance at those places.
Tiger Hill
The Hill Tiger comes under the Darjeeling budget travel guide.
It's a must-visit Darjeeling spot. It attracts every tourist with its fabulous view.
It gives a panoramic view of both Kanchenjunga and Mount Everest. In comparison, other peaks show the Kanchenjunga view only.
It is located only 10-11 km away from the central city.
After spending a calm night in Darjeeling:
Rise early in the morning.
Take a local transport or cab to reach the destination.
See the sunrise view.
Tourists consider the peak of Tiger Hill as the best for it.
Spend some time here. You'll see how wonderfully the golden rays spread all over the mountains and every corner.
Nothing can be more beautiful than seeing how fast the rays fill the snow-covered peaks.
The spot has a watchtower. The Tiger Hill watchtower offers a spread view. No one can describe how beautiful it is.
Hiking is one of the best things you can ever do with our Darjeeling budget travel guide.
This place fulfils my wish to hike. Hiking on Tiger Hill will never disappoint you.
It would help if you travelled either in Autumn or Winter to get a clear sunrise view.
But we can't deny that Darjeeling is quite tough to predict. Suddenly, a cloud can come and destroy the clear view. Otherwise, it is unbelievable.
Tibetan Refugee Center
Our Darjeeling budget travel guide can help you explore unique places. So the next spot is the Tibetan Center.
We are adding the place as the 2nd point among 7.
It is known as the Tibetan Refugee Self-Help Center.
The designation makes us wonder why it is called a self-help centre. Do you think the same?
The thing is that it was built in 1959 as a rehabilitation camp for Tibetans.
They shifted in India China's occupation of Tibet. They decided to help themselves to survive.
It proves how brave they are. The Tibetans started making handicrafts, shawls, carpets, woollen crafts and other things.
They started selling them to tourists. Thus they survived.
Explore the centre. You will see Tibetan men and women working unflinchingly and producing handicrafts.
They not only live here but prove themselves responsible citizens.
Everyone should be proud of their struggle and their self-respect.
It is located on a hilltop. Visit there from Lebong Cart Road. You will end up in the spot.
It's a must-visit place; you know why?
Whenever we visit a place, we buy something that makes us remember the location or memory.
Buy gifts from the place. It can make your dear ones happy by giving them gifts.
It also helps Tibetans live a happy life with economic power.
Darjeeling Ropeway
Get the best Darjeeling budget travel guide with the 7 points of Darjeeling.
The ropeway of Darjeeling is fabulous. We can ride bikes, cars, trains, and aeroplanes.
But riding a ropeway is only possible by visiting hill stations. The place gives you the scope of this fantastic riding experience.
Before going for it, learn some historical background of it.
First, it was started by the Department of forest development in 1968.
It is renowned for being the longest ropeway in the country. It attracts visitors. None of the tourists will return without experiencing a ropeway walk here.
The latter is about 3 kilometres long.
The journey starts from Chowk Bazar. So you have to reach Darjeeling Chowk Bazar.
Then book a ticket to ride on it. It will showcase the panoramic view of River Little Rangeet to Great Rangeet.
The feeling is amazing. Astonishingly, you should ride it again after finishing the journey instantly.
The journey not only shares the view of passing River range. It also shares the unforgettable view of dense forests, green valleys, streams, flowing rivers, mountain ranges, and tea gardens.
Don't you want to have these amazing views? It would be best if you travelled over the ropeway then.
Batasia loop
The fourth part of the Darjeeling budget travel guide is visiting Batasia Loop.
The place is one of the best attractions of Darjeeling on a pocket-friendly budget.
It's among the best sightseeing spots in Darjeeling.
We'll tell you more about it so that you understand why it's a must-visit spot.
It's a well-maintained garden. A group of people loves gardening.
This destination is the perfect destination for them.
It will show you how beautiful a garden can be with proper maintenance. 
You can have the energy to create a copy in your own house.
We know how famous Toy Train is.
Could you view the toy train here? Is it not amazing?
The place is undoubtedly attractive. However, it gets more attractive when the Toy Train enters the garden.
In the meantime, you can make videos and take pictures of it.
Walk through the loop, explore its beauty, take selfies, and spend quality time with your tour partner.
Once you have done all these, you can sit on the grass and wait for the toy train's arrival.
It can also arrive all of a sudden. So prepare for it. It is a Darjeeling budget travel guide.
Darjeeling tea garden
In Darjeeling, your priority should be visiting the tea garden.
The place is famous for its tea garden. So when you are here, you must not deny it.
We suggest you visit the tea garden as this content is all about the best Darjeeling budget travel guide.
Happy Valley Tea Estate is a perfect place.
Reach the garden first. It's a widespread tea garden.
The garden is always loaded with workers.
The locals work here, and it's their primary income source.
They are the perfect example of hardworking people.
They carry a bucket on their back. Fill it by cutting tea leaves.
Reach it to the factory, and factories reach it towards us.
It is a familiar scene of the place. We suggest you try to talk to them.
Their behaviour is outstanding. Thus you can spend a special day experiencing a lot of things.
Visiting the spot soothes the visitor's eyes. Your eyes can not ignore the greenery view.
The scene can help you feel refreshed.
Do you want another destination that comes under our amazing Darjeeling budget travel guide?
Then checking the next spot is compulsory.
Tenzing rock
We are already going through the Darjeeling 7 points.
Five have already been done. Tenzing Rock is the 6th one.
It's a Darjeeling budget travel guide destination.
It's a naturally formed rock. Visitors should come here to experience rock climbing.
The rock is named after the popular Tenzing Norgay.
The rock is known as an adventurous Darjeeling spot.
Darjeeling is known for its tea garden, mountain views, scenic beauty, and mountaineering training.
It's the perfect place to learn how to climb rocks and make mountaineers.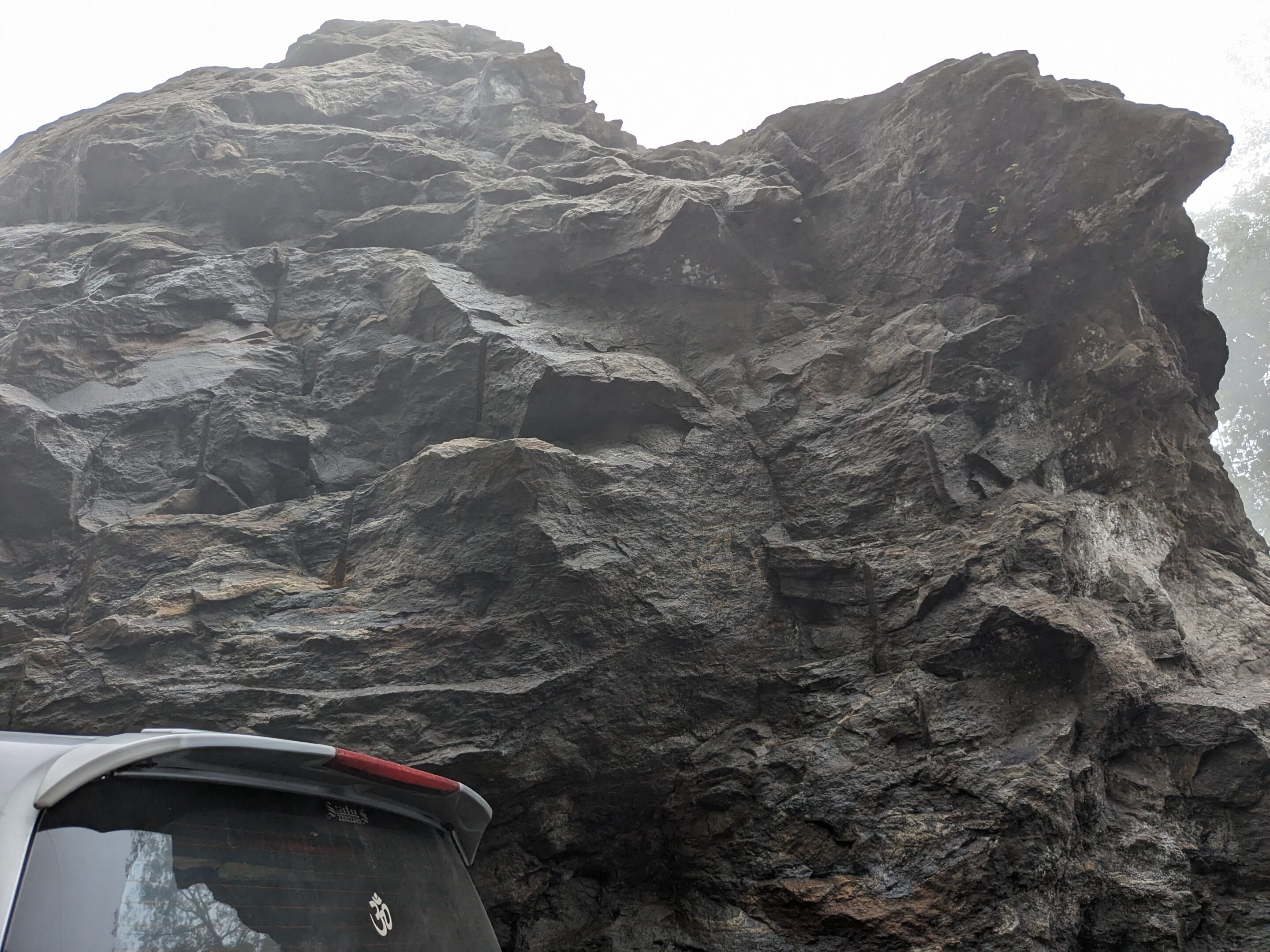 Tourists get motivated by the guides. Let us tell you what will happen if you go up.
Indeed, the process won't be more straightforward.
But we know success comes after the most challenging battle.
This short journey will make you feel joy.
It's a beautiful feeling to complete an impossible task.
You can see the surroundings, green lushes, and the people underneath the rock from the upper side.
You can say hello to the men under the rock. You can make a loud crowd to express your joy.
If you do not want to get sweat by climbing the rock, you can sit at a place.
See others climbing. We guarantee you can't stop yourself from doing this.
Darjeeling Zoological Park
Go through Jorethang Road to meet up at the park.
The park is nothing less than a long-spread natural garden.
The park has been included in the Darjeeling budget travel guide post as its entry fees are very low.
Now let's know about the spot.
Isn't it amazing to suddenly meet a Red Panda, snow leopard, and Himalayan wolf?
It is also a home for Himalayan Black bears and other endangered species.
You can't get such a chance daily to meet the mentioned animals from close. So do not miss the opportunity.
We can call it Darjeeling Zoo. While sightseeing the place, you will witness a lot of happy moments.
It's a must-visit place for you if you are a wildlife photographer.
It's not a big deal, even if you are not a wildlife photographer.
You can see other photographers presented there with cameras.
They focus on their camera for hours to capture the best photographs of their life.
If you are on a family trip to Darjeeling, you must only return to exploring this zoo.
The park will amaze children. It can be a historical tour for them.
Conclusion
We hope we helped you as a Darjeeling budget travel guide.
We want everyone to explore the world, especially nature.
So many people are travel addicted. But they step back as it needs a higher budget.
Now the lower budget won't come on your way. It can not destroy your dream.
Your dream will come true of exploring Darjeeling on a lower budget.
We have already guided everything on how you can make it possible.
Just follow them and plan a trip as soon as possible.